Director Rachel led the NACOSTI team and had a very fruitful engagement with the top leadership of the National Defence University led by their Vice Chancellor Lieutenant General Jonah M I. Mwangi. National Defence University is the first Special Degree awarding University in Kenya.
The NACOSTI team comprised Director Rachel Shibalira, Director General Prof. Walter Oyawa, Dr. David Njubi, Mr. Godfrey Kalerwa, Ms. Teresia Nyawira, Mr. Rollex Opondo, Mr. Javan Mwiti-Resource Person and Mr. Kioko Mwania representing National Research Fund (NRF).
While the NDU comprised Vice Chancellor Lt. General Jonah Mwangi, Deputy Vice Chancellor, Finance and Administration Major ( Rtd ) P. Amagola, Deputy Vice-Chancellor, Academic Affairs and Research, Prof. Ann Muigai, University Registrar, Dr. Stephen Mailu, Director of Academics, Brigadier Benedict Mwololo, Director of Applied Research and Security Studies, Brigadier David Obonyo, Head of Teaching and Curriculum, Col. Dr. C. Imbiakha, Head of Research Centre for Security Studies and Strategy Col. Dr. J. Kimuyu, Head of Strategy Col. R. Makori and Head of Programs Defence, Dr. Luvanda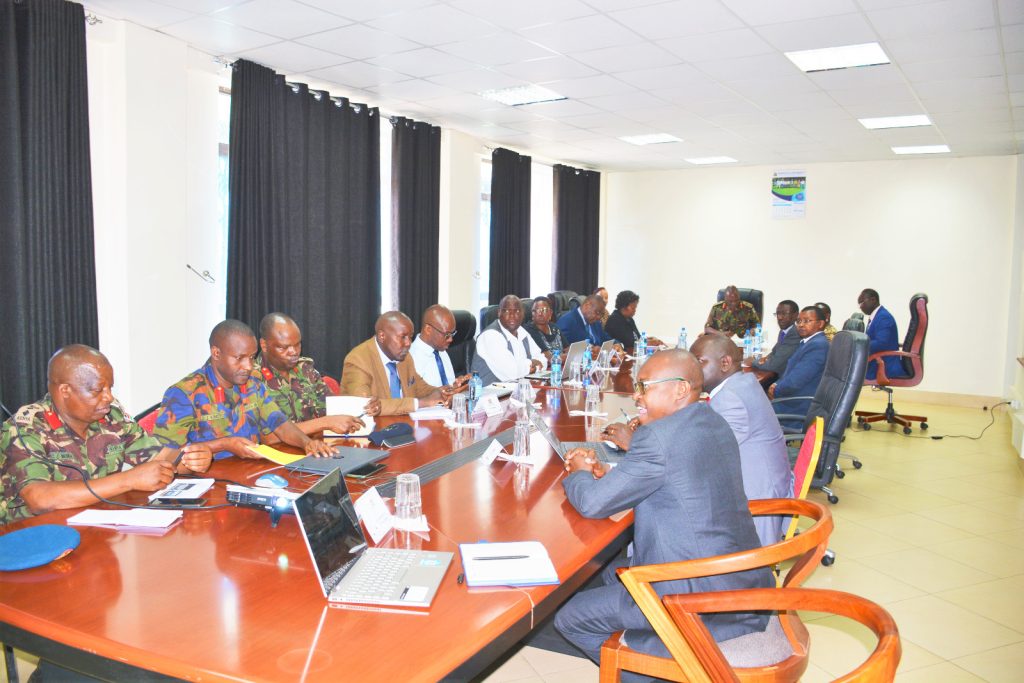 Following presentations by either party, several issues came to light, Viz.
NACOSTI as the regulating agency of the STI Sector and special agency coordinating STI Mainstreaming PC Target is requested to train STI Focal Point and STI Champions at NDU. A tailored program may be developed for this purpose.
NDU needs to lead the security sector in collaboration with NACOSTI, in promoting STI for National Security and Public Safety, including the development of STI Strategy for National Security.
NDU to consider instituting special programs for the development of the next generation STI/STEM Workforce.
NDU to invest in RSTI activities to enhance Kenya's Global competitiveness.
NACOSTI to fast-track accreditation of NDU ISERC.
NACOSTI to involve NDU staff in peer reviewer mechanisms.
Both parties to jointly or otherwise organize relevant conferences, workshops, symposiums, etc.
NDU to consider funding Research and Technology Chairs in memory of Eminent persons who have made a significant contribution to the deployment/training of STI in National Security Enterprise.
Way forward:
Form a Joint Management Committee to spearhead the collaboration
Work towards signing an MoU after necessary approvals including the AG.
Implement MoU
Joint Management Committee to deal with emerging issues