---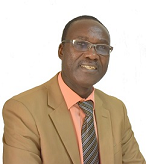 Prof. Walter O. Oyawa, PhD
Director General/CEO
---
On behalf of the Board, Management and Staff of the National Commission for Science, Technology and Innovation (NACOSTI), I take this opportunity to welcome you to NACOSTI Website whose main purpose is to facilitate communication and sharing of information, knowledge, best practices and tools for research, accreditation and quality assurance. I thank you for taking time to visit our website and share in our vision, taking note that ST&I is the key to socio-economic development of our country, Kenya.
National Commission for Science, Technology and Innovation (NACOSTI) is established under the Science Technology and Innovation Act, 2013. The mandate of NACOSTI is to regulate and assure quality in the research, science, and technology and innovation sector and advise the Government in matters related thereto. In so doing, the Commission shall Regulate, Coordinate, Advise and promote Science, Technology, Innovation and Research activities in the country.
Among other functions of NACOSTI include; developing priorities in scientific, technological and innovation activities in Kenya, Registration and Accreditation of Research Institutions, Licensing of Research and assuring relevance and quality of research programmes in research institutions, coordinating and evaluating activities relating to scientific research and technology development, annually reviewing the progress in scientific systems, and promoting the adoption and application of scientific and technological knowledge in attaining national development.
Further, the Science, Technology and Innovation (ST&I), Legal Notice No. 108 (Research Licensing) Regulations, 2014 obligates all persons intending to undertake scientific research in Kenya to obtain a license in accordance to the Act. In this regard, we have made this process easy and convenient for you all by making it available online.
I trust that you will enjoy interacting with the resources we have put in it for you. Feel free to contact us through our telephone numbers, email and all our social media platforms.