Presidential Innovation Awards Winner from Kenya Joseph Nguthuri being awarded his dummy cheque by the Vice President of Uganda Jessica Alupo during the EAC Regional Youth Innovation Forum.
An Egerton University student has been awarded for his efforts in championing innovation.
Joseph Nguthiru was selected to be part of the six top young innovators in the East African Region.
This followed a competitive selection by a pool of eminent experts established by the East Africa Science and Technology Commission (EASTECO).
Nguthiru received his Presidential Innovation Award from Ugandan President Yoweri Museveni, who was represented by Vice President Jessica Alupo.
The award was presented in the presence of EASTECO Chairman Prof Walter Oyawa, Executive Secretary Dr Sylvance Okoth and other Commission Governing Board members.
Oyawa is also the Director General of the National Commission for Science, Technology & Innovation (NACOSTI).
The award saw Kenya demonstrate its prowess and leadership on impacting innovations geared towards enhancing prosperity and livelihoods in the East Africa Region.
Nguthiru was awarded for his innovation which is likely to be a global game changer as it seeks to convert or transform the troublesome water hyacinth into biodegradable alternatives to single-use plastic products.
The innovation primarily converts water hyacinth (world's most problematic aquatic weed) into biodegradable products such as wrappers, plastic straws, tumblers and party plates.
These biodegrade within three to six months. The innovation may serve multi-purposes relating to the use of plastics.
Prof Oyawa commended EASTECO Management, through Dr Okoth, and expressed the Commission's determination to identify and work with young innovators in the region by providing necessary guidance and experts on innovation protection through patenting, innovation scale-up and commercialisation, innovation legal framework, innovative entrepreneurship, and innovation royalties.
The three-day event was organised by EASTECO with support and in collaboration with stakeholders in STI in the region.
Ministries responsible for STI, National Councils/Commissions of Science and Technology are also involved.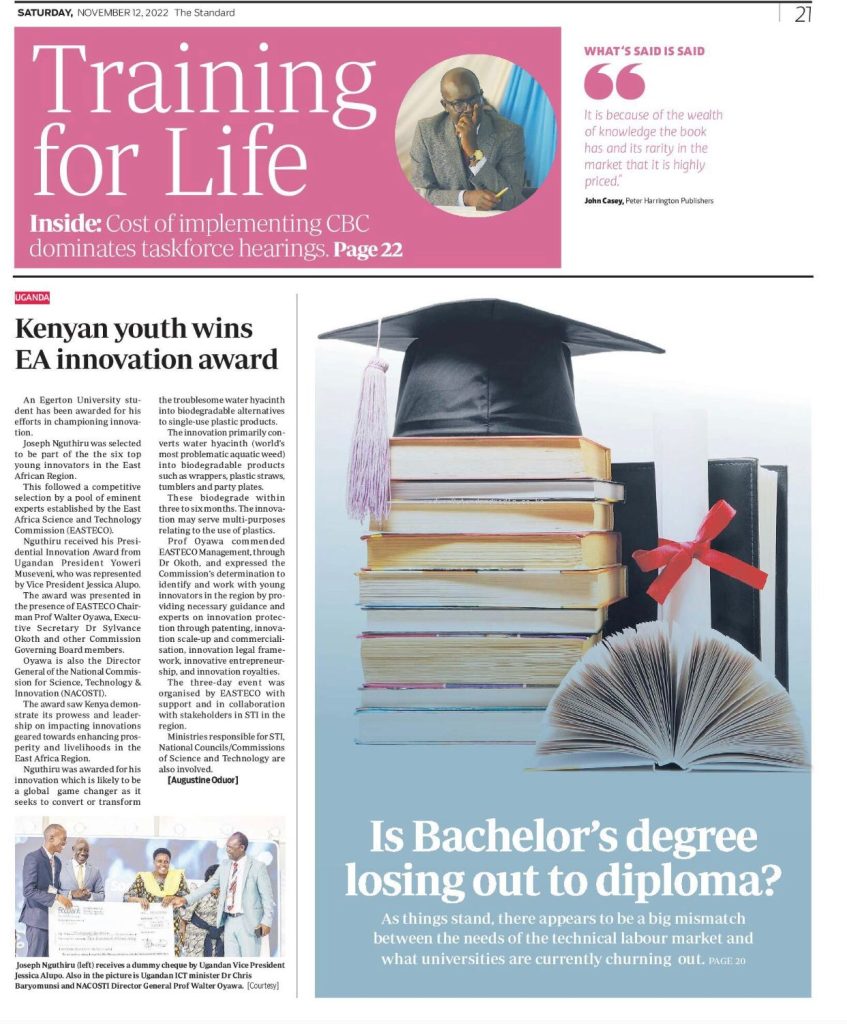 Source: https://www.standardmedia.co.ke/education/article/2001460398/kenyan-youth-wins-ea-innovation-award