As open research in Kenya grows in popularity—especially in the areas of higher education and academia—ORCID adoption has increased as well. ORCID Membership in Kenya represents a diverse group of constituents, including PAMJ in publishing, Strathmore University in higher education, The African Academy of Sciences in funding, and the National Commission for Science, Technology and Innovation (NACOSTI) as a key supporter of open research.
In order to ensure quality in the science, technology, and innovation sector, every researcher must obtain a government license to conduct research in Kenya. To support this requirement, NACOSTI provides research licensing, registration of research institutions in Kenya, and accreditation of research institutions.
Navigating a challenging ecosystem
With such a diverse and complex mission, NACOSTI faces numerous challenges and is often under the pressure of working in a highly siloed environment, managing report latency, and struggling with the need to increase visibility and discoverability.
The challenges extend to researchers as well, as they often shoulder a burdensome administrative load, juggling numerous profile systems, spending too much time on manual data entry (which also invited data errors), dealing with misattributed research output, all while worrying about lack of control over their own personal data.
A pioneer in open research
In response to these challenges, NACOSTI developed an integration that leverages increasing ORCID adoption in Kenya by researchers, enabling the collection of their ORCID iDs and importing them into their Research Information and Management System (RIMS) portal. With this integration, NACOSTI became a major driver for ORCID adoption, allowing researchers to benefit from the name disambiguation that ORCID provides, and encouraging further adoption of ORCID by other researchers and institutions.
Why ORCID?
As outlined in the portal demo presentation given when launching their integration, NACOSTI also chose ORCID for a host of additional reasons, including:
ORCID is a platform-neutral, not-for-profit organization
ORCID provides an international service that integrates with other researcher identifiers
The ORCID iD and My ORCID profile is free to researchers
ORCID provides open-source data, software, APIs, and documentation
Plans for the future
As pioneers do, NACOSTI is already planning to upgrade its ORCID integration to link more data to and from researchers' records. NACOSTI is serving as an example and inspiration to many other organizations in Africa and in Lower-Middle Income Countries (LMIC) as classified by the World Bank income classifications, showcasing the integration work done in collaboration with Amband Kenya, as per the Commonwealth of the Bahamas Research Permitting System. Amband is also working in countries like Cameroon, Madagascar, and Namibia in developing a similar portal.
Visit Nacosti's website to see how they are facilitating quality in the research, science, technology and innovation sector.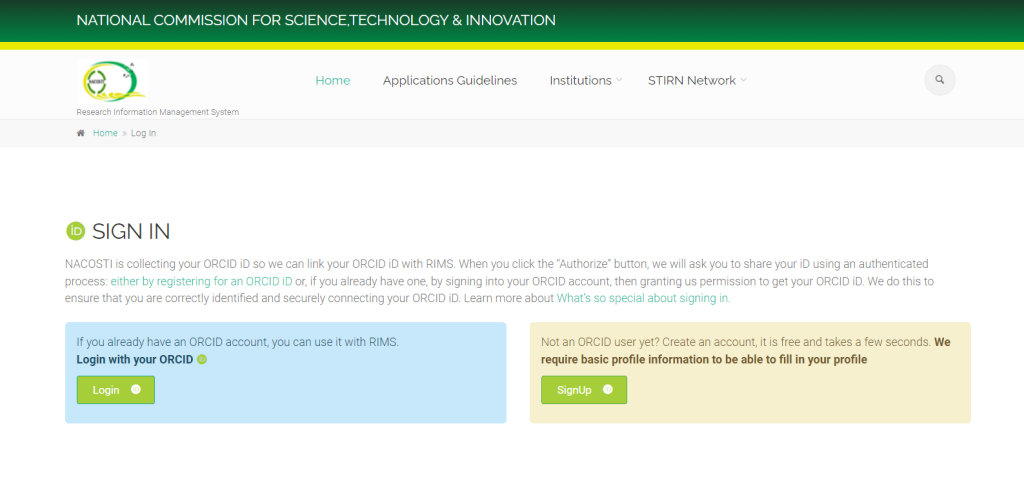 Source: https://info.orcid.org/nacosti-an-open-science-pioneer-in-kenya/