NASA astronaut Jessica Watkins is scheduled to fly to space for the first time as part of NASA's SpaceX Crew-4 mission launching to the International Space Station.
(CNN) – NASA astronaut Jessica Watkins will become the first Black woman on the International Space Station crew.She is set to launch into space in April 2022 on the SpaceX Crew-4 mission, according to NASA.Watkins was selected as an astronaut candidate in 2017 and has been preparing for her first space mission since then.
The other three crew members on the mission include NASA astronauts Kjell Lindgren and Robert Hines, as well as the European Space Agency's Samantha Cristoforetti.
This is the fourth crew rotation flight of the Crew Dragon spacecraft to the International Space Station, the space agency said.The team will blast into space from NASA's Kennedy Space Center in Merritt Island, Florida, on a SpaceX Falcon 9 rocket. The astronauts will spend six months in the ISS microgravity laboratory conducting scientific research, NASA said.Watkins attended Stanford University in California and earned her bachelor's degree in geological and environmental sciences, then went on to earn a doctorate in geology from the University of California, Los Angeles.The astronaut has a long history with NASA, having begun her career there as an intern, and she previously held roles at NASA's Ames Research Center in Mountain View, California, and at the Jet Propulsion Laboratory in Pasadena, California.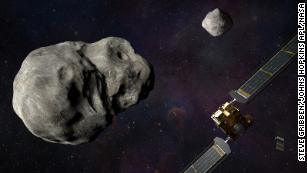 She was a member of the science team for the Mars Science Laboratory rover, Curiosity, while working as a postdoctoral fellow at the Division of Geological and Planetary Sciences at the California Institute of Technology in Pasadena."Geology provided a means for me to study the surface of another planet and particularly look at Mars, which was my passion," Watkins said in a NASA video.A number of her NASA colleagues congratulated Watkins on her new role and upcoming trip to space.NASA astronaut Jonny Kim said, "More Turtles in space! Congrats to my friend and teammate, Jessica Watkins. She's going to be an amazing crewmate for @SpaceX Crew-4."
Kathy Lueders, lead of NASA's human spaceflight program as associate administrator for the Space Operations Mission Directorate, said, "Congrats to @NASA_Astronauts' Jessica Watkins! She's been chosen to join @astro_kjell, @Astro_FarmerBob, and @esa's @AstroSamantha on the upcoming @SpaceX Crew-4 mission, the fourth crew rotation flight of the Crew Dragon spacecraft to the @Space_Station."
A history of trailblazers
Countless people of color paved the way over the past half a century for Watkins to achieve her extraterrestrial dreams.Dr. Bernard Harris Jr. spent decades recruiting minority and female astronauts and would later become the first Black person to walk in space in 1995.
Dr. Mae Jemison became the first Black woman in space while aboard the Space Shuttle Endeavor in 1992.Sign up for CNN's Wonder Theory science newsletter. Explore the universe with news on fascinating discoveries, scientific advancements and more.In 2013, Victor Glover Jr., a legislative fellow in the US Senate, was selected as an astronaut and became the first Black person to hold a long-duration crew assignment on the ISS. He was a crew member from November 15, 2020, to May 2, 2021.
Source: https://edition.cnn.com/2021/11/18/world/nasa-jessica-watkins-astronaut-iss-scn/index.html