NACOSTI in collaboration with Daystar University recently held a workshop for postgraduate students to provide mentorship on matters graduate research. The 3rd Interuniversity Graduate Students' Mentorship Programme (IGSM) on research and publication was held virtually on 8th April 2021 from 1.00 – 5.00 pm. Director General, National Commission for Science, Technology and Innovation – Prof. Walter Oyawa addressed over one hundred and eighty (180) participants on the topic "Research Ethics: The Regulators Perspective". He informed the participants that the commission was established by the Science, Technology and Innovation Act, 2013 (Revised 2014) as a State Corporation. The mandate of NACOSTI is to regulate and assure quality in the science, technology and innovation sector and advise the Government in matters related thereto. To achieve its mandate, the STI Act stipulates seventeen functions of NACOSTI, which may be categorized into: Regulating, Advising, Coordinating, and Promoting matters STI and the STI sector. As part of regulation and quality assurance, NACOSTI licences research in Kenya that is beneficial to the country and does not:
adversely affect the culture of any community in Kenya
adversely affect the environment
adversely affect nature
result in the exploitation of intellectual property rights of communities to their traditional knowledge
adversely affect the lives of Kenyans; and
compromise state security.  
The participants were informed that NACOSTI examines all research proposals for suitability for licensing based on the above criteria. It is thus mandatory that all persons to obtain a research license for undertaking any scientific research in the country as per the STI Act. Prof. Oyawa informed the participants that before the applicants submit their proposals to NACOSTI for licensing, they should be first submitted to the Institutional Scientific and Ethics Review Committees (ISERC). This is to ensure that the proposals are scientifically and ethically compliant. In the case of graduate students research the proposal must be approved by their respective Institutional Board of Postgraduate Studies.
According to section 15 of the STI Act, any person who accesses, handles, transacts, transfers, or moves any specified technology or any material necessary for scientific research within, into or from Kenya without a licence issued under the STI Act or undertakes research without a license contravenes the STI Act and hance commits an offence. This person shall be liable on conviction to a fine not exceeding five million shillings or to imprisonment for a term not exceeding four years, or both. Further, the court convicting such a person may in addition to any penalty imposed thereunder, order the confiscation of the materials in respect of which the offence is committed, and may bar the person so convicted from undertaking any further research in the country or transferring or moving any substance or material in or out of the country.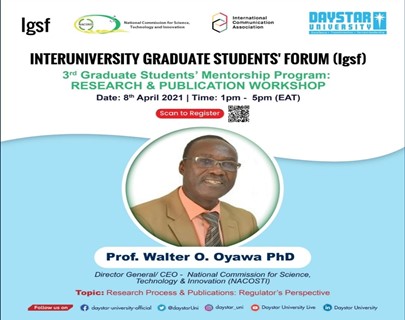 The Director General further informed the participants that NACOSTI was a focal point of several international organizations where Kenya is a signatory to the International Treaties, Conventions and Protocols. The scope of these international obligation ranges from protection of human subjects to control of production and application of nuclear and biological weapons. The National Focal Points for which the Commission is a focal points are: The Biological Weapons Convention (BWC), The African Regional Cooperative Agreement for Research, Development and Training related to Nuclear Science and Technology (AFRA), International Centre for Genetic Engineering and Biotechnology (ICGEB), Comprehensive Nuclear Test Ban Treaty Organization (CTBO), and East African Science and Technology Commission (EASTECO). In addition, NACOSTI is expected to ensure that any other emerging technology is applied for the benefit of the country.
The one-day workshop which was jointly organized by Daystar University, NACOSTI and International Communication Association (ICA) was attended by over 180 Masters and PhD students as well as faculty members drawn from both local and international universities The other key speakers included: Prof. Laban P. Ayiro, Vice Chancellor, Daystar University; Prof. T.J. Thomson, Queensland University of Technology, Australia; Prof. Mary Bock University of Texas-Austin, USA; Prof. Kirstie McAllum, University of Montreal; Prof. Simone Driessen, Erasmus University Rotterdam, The Netherlands; and Prof Shiv Ganesh, University of Texas-Austin, USA.