Introduction
The vice President for Science and Technology and Head of National Elites Foundation, Iran H. E. Sourena Sattari was accompanied by H.E. Jafar Barmaki Ambassador to Kenya and Director General, Technology Exchange office S. Ahmadreza Alael and a delegation of experts in Innovation and Research paid a courtesy call to the office the cabinet secretary Prof. Magoha on 26th January 2021 at Jogoo house 2nd floor. They were received by CAS, Ms Mumina Bonaya, PS, Amb. Simon Nabukwesi, Personal Assistance to CS Maghoha, Mr, Machogu, Director General (NACOSTI) Prof. Walter Oyawa, Director of Higher Education Mr. Darius Ogutu, Director, Directorate of Research Science and Technology Dr. Mwangi, Ag. Chief Executive National Research Fund (NRF) Dr. Jemimah Onsare, Chief Executive Kenya National Innovation Agency (KeNIA), Dr. Omwansa and other technical experts from the different Agencies.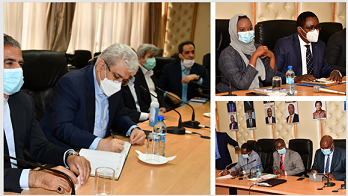 From Left: H.E Jafar Barmaki, vice President Sourena Sattari, S. Ahmadreza Alael and other delegates; Right Top: CAS, Ms Mumina Bonaya, PS, Amb. Simon Nabukwesi; Right Bottom: Dr. Mwangi, Prof. Walter Oyawa, Mr. Darius Ogutu
Remarks by Hon. Ms. Mumina Bonaya – Chief Administrator Secretary Ministry of Education, Science and Technology
The Chief Administrator, Ms. Mumina Bonaya, welcomed the visitors and appreciated that they paid a courtesy call to the ministry to discuss matters of collaboration and partnerships in Science, Technology, and Innovation. She acknowledged the earlier visit by the Ambassador to NACOSTI on 14th December 2020 and requested Prof Oyawa to give a summary and highlights of what was discussed then. Prof. Oyawa informed the delegation what was agreed with H.E. Jafar during the visit to NACOSTI. The two had identified areas of common interest and priorities for the two countries. These included STEM education and training in New and emerging technologies, Technology transfer and commercialization and Nanotechnology as one of the emerging technologies. He also highlighted the priorities by the Iranian ambassador which included Operationalizing the IRAN HOUSE OF INNOVATION AND TECHNOLOGY CENTRE (INNOVATION HUB), Nanotechnology training project and Trainer of Trainers (TOT) project. During that discussion, Iranian Ambassador, indicated that he wanted to fast track the implementation of prioritized projects. Prof Oyawa informed the delegation that in the meeting with ambassador, they agreed a way forward was to establish a coordinating multi-sectoral and multi-agency team under the leadership of the Cabinet Secretary, chaired by both PS and ambassador Iranian and secretariat by NACOSTI to roll out programs and activities.
Remarks by Vice president for Science and Technology and Head of National Elites Foundation-Iran
He acknowledged the warm welcome he received. He also informed the members that he was in Kenya two years ago following the same agenda of pursuing collaboration and partnerships in Science and Innovation. He reinforced that the purpose of the visit was to discuss more on cross cutting issues in the science, technology and Innovation ecosystem between Kenya and Iran particularly to strengthening cooperation and partnerships between the Innovation hub at Iranian Embassy in Nanotechnology Education and training and Kenyans companies.
He informed the delegation that Iran had established cooperation with three Kenyan Universities and are ready to roll-out trainings in Nanotechnology at a master's level this year (2021) beginning in September after the approval by the CS. On this note he requested the CS to consider fast tracking the approval process since the universities are ready to commence the program in September 2021. He informed the delegation that Iran has highly developed ecosystems in technologies in Science, Innovation and Education (Innovation centers or science Parks, Capital ventures or education (in Nanotechnology, oil and gas etc). He requested Kenya to select and focus one ecosystem from which they can develop collaborations and partnerships with Iranian counterparts. He informed the Kenyan delegation that they produce highly specialized instruments and chemicals for laboratories. Kenya should try and explore on how they can get partner with them.
Remark by H.E. Ambassador Simon Nabukwesi
He expressed his appreciation and apologized of not meeting H.E Amb Jafar when he visited NACOSTI. He acknowledged that Iran is advanced in science especially in fields such as pharmaceuticals and medicine more than Indian where most Kenya seek medication. He emphasized that Kenya was ready to partner and collaborate with Iran. This was confirmed by the presence of all heads of departments and Agencies responsible for university education and research in Kenya. He highlighted some areas of attention e.g dry farming which can be pursued by universities in collaboration with willing partners. He informed the Iranian delegation that NACOSTI, NRF, KeNIA and universities are willing to develop respective partnerships and collaborations.
Way forward
The Vice president informed Kenyan delegation that they could explore seeking funding from their biggest funding agencies, National resource fund and Innovation fund for projects such as start-ups.
It was agreed to have collaborations at two different levels.
Government to Government
Agencies to Agencies of similar interests (NACOSTI, NRF, KeNIA and Universities each to form collaborations with similar institutions from Iran)
Agencies were urged to pursue collaborations and partnerships on the identified priority areas.
In conclusion it was agreed that a coordinating team will be established through the guidance of the CS. The team will be chaired by the PS Amb. Simon Nabukwesi and secretariat to be NACOSTI. The office will also guide the engagement between the two countries and the rolling-out of programs.
Iran offered to share examples documents of collaborations they have with China, Russia, Australia etc. to have an idea of how they be engaged. The other alternative was that each institution to develop a MoUs with interested parties as they deem suitable. Iranian Vice president extended an invite to the Kenya delegation to visit Iran and have really picture of the technologies, resources, and people. This is to see the Iranian ecosystem in the context of what was being discussed.