The UNESCO Regional Office for Eastern Africa on Thursday 13th August, 2020 made a courtesy visit to the Director General, NACOSTI to discuss possible areas of collaboration between the two institutions. The team from UNESCO compromised of Dr. JayaKumar Ramasamy, a Senior Programme Specialist and Head of the Natural Sciences Sector and Dr. Samuel Partey Science Policy and Capacity Building specialist. NACOSTI was represented by the Director General, Prof. Walter O. Oyawa, Ms. Margaret Muthee, Head Humanities and Social Sciences Schedule and Ms. Rael Adhiambo from the Earth and Space Sciences Schedule.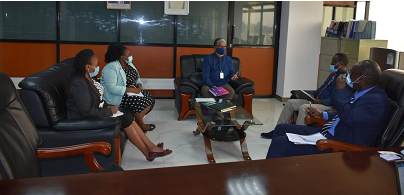 The Director General highlighted briefly on NACOSTI's the mandate as outlined in the Science, Technology and Innovation (STI) Act. These mandates can be grouped into 4 broad areas of policy advisory, regulation, coordination and promotion of STI. The key focus for the implementation during the current financial year include:
Coordination of implementation of the National Research Priorities through formation of various organs to oversee the process of implementation, monitoring progress and reporting;
Establishment of research consortia and STI network with several focal points to coordinate the efforts of different players in the STI sector;
Finalization of the STI policy and development of implementation framework;
Development of STI for SDGs Roadmap;
UNESCO STI Programmes for alignment to NACOSTI Programmes; and vi. Promotion of STEM education from the lower level to higher levels of education.
The Natural Science Sector at the UNESCO Nairobi Office designs and implements its activities in relation to the International Science Programmes (ISP) of UNESCO: International Hydrological Programme (IHP); Man and the Biosphere Programme (MAB); International Geoscience and Geoparks Programme (IGGP); and International Basic Sciences Programme (IBSP). For activities pertaining to IHP; Ecological and Earth Sciences; and Disaster Risk Reduction, this office has a coordination role for all sub-Saharan African countries with other Regional Offices. The Science Policy and Capacity Building programme caters for its regional countries in addition to handling the coordination of the African Network of Scientific and Institutional Institutions (ANSTI). The regional office is currently undertaking several programmes which provide opportunities for collaboration with NACOSTI. These include:
Development of curriculum to train small-scale artisanal miners to equip them with knowledge in geological sciences. The project will be implemented in partnership with Jomo Kenyatta University of Agriculture and Technology (JKUAT), African Development Bank (AFDB), UK University Council and other partners from Uganda. It will cover the East African region;
Organization of a certified training on Artificial Intelligence (AI) targeting university lecturers from JKUAT, Kenyatta University and Masinde Muliro University. The programme is being implemented in collaboration with Huawei;
Support of research in areas such as water resources and security and disaster risk reduction (DRR) to provide evidence for interventions to improve these critical sectors;
Design of materials for edutainment to enable children understand complex issues such as climate change, DRR and water security; and
Undertaking baseline studies in several African countries to assess their STI sectors to provide evidence for the design of interventions to advance STI.
From the discussions, the following areas of collaboration between the two institutions were identified:
Development of an AI policy with possible support from Huawei; and
Identification of potential universities to be designated as UNESCO Chairs in collaboration with the Kenya National Commission for UNESCO.